Gnarls Barkley is a musical collaboration between producer Danger Mouse and rapper/singer Cee-Lo, which was founded when the latter found one of his Pelican City (a stage name which he once used for his electronica work) records, which was down tempo experimental music The duo made their debut performance at the Coachella Valley Music and Arts Festival on April 30, 2006, but their first concert, hosted by Myspace.com took place at The Roxy Theatre in Los Angeles on April 28, 2006. They are now all set to perform at Lollapalooza 2006 in Chicago and play the 02 Wireless Festival this June and July.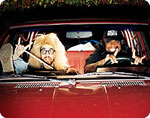 Danger Mouse a.k.a. Brian Burton is also a DJ who was noticed in 2004 when he remixed The Beatles' White Album and rapper Jay-Z's Black Album to make The Grey Album. Burton's first original releases under the name of "Danger Mouse" include "The Ghetto Pop Life" in 2003 with rapper Gemini, "Demon Days" with the Gorillaz (which earned him a Grammy nomination) and "The Mouse and The Mask" with MF Doom. In 2006 Danger Mouse released "St. Elsewhere", a collaboration with Cee-Lo as Gnarls Barkley, and is set to release "Kill Your Heroes", his second album with Jemini, a collaborative album with "Black Thought of The Roots",as well as another collaboration with Damon Albarn.
A member of the group Goodie Mob, Cee-Lo Green a.k.a. Thomas Calloway co-founded The Dungeon Family- a hip hop/R&B/soul musical collective, based in Atlanta, Georgia which specializes in Southern hip hop with heavy funk and soul influences- with P.A. and Outkast.. Although normally credited as a rapper,Cee-Lo's music is steeped in the gospel and blues traditions of the Southeast. He confirms reports that he did sing and write for the Gnarls Barkley records although he is quick to maintain that they are not the same person.
"St. Elsewhere" is a complex record and it employs the full range of pop music and human emotion. Released by Warner Music on April 24, 2006 in the UK and on May 9 in the U.S. by Atlantic/Downtown Records, it was made available for download one week earlier in the U.S. online download stores. "Crazy", their first single, gained some of its popularity due to the use of it on primetime BBC Radio 1, and it was also made Record of the Week by BBC Radio 2 and due to the performance at The 2006 MTV Movie Awards, where they performed along with Christina Aguilera, AFI, and Wolf mother. It was released as a single on April 3, 2006, proceeded by its release as digital download and 12" vinyl single in March 2006. The first single to top the UK singles chart for nine weeks consecutively since 1994 when Wet Wet Wet's "Love Is All Around" , "Crazy" was number one for fifteen weeks. It has equaled the 1984 classic, "Two Tribes" and the 1975 classic "Bohemian Rhapsody" .In April 2006, it became the first ever UK number one based on download sales alone staying there for 11 consecutive weeks.
The warm, breezy single "Crazy" and the lively "Smiley Faces" recall Stevie Wonder and The Beach Boys. "On Line," a lament for the lonely and ambitious, could be a tricked-out Gangsta-funk leftover. Often dark and unpredictable, "St. Elsewhere" nevertheless retains its sense of joy throughout. Even Cee-Lo's darker moments, his introspection on "Necromancer", and the chilling "Just A Thought," on which our hero fights off suicidal thoughts, thrives in their own right. The album constantly shifts its shape-feelings vary from dynamism to mourning, from affection to fright, but never once does it forfeit momentum. Far from explaining who Gnarls Barkley really is, it contains a mess of contradictory clues, which makes the answer more obscure than ever. Milton Pawley, a Los Angeles music writer widely considered the world's leading Barkley scholar says that even with all the evidence he has gathered, he is still not sure whether Barkley really exists. Danger Mouse clarifies that Cee-Lo is not Damon Albarn, who was responsible for the creation of the Gorillaz, nor is Gnarls Barkley a reference to former basketball player Charles Barkley.

Perhaps Gnarls Barkley will never fully reveal himself but his music bears depth of feeling, emotive theatrics, and wild courage and thus makes it the most exciting debut of 2006.