Gnarls Barkley - St. Elsewhere "St. Elsewhere," the duo's stunning soul-pop masterwork of satirical lyricism, tempting hooks and a array of channels, is the unsullied, nothing-sounds-like-it album that has the prospect to transfigure soul. Some of the songs sound gospel-tinged, others as if they have come straight from an older, more positive decade. Hit-master Danger Mouse, whose works include successes for the Pussycat Dolls, P Diddy and Ludacris presents lyrics as astute as they are catchy: "Everybody is somebody/but nobody wants to be themselves," chants Cee-Lo in "Who Cares?" "St. Elsewhere," which was released in the U.S. on May 9, and it didn't take much time to become to stir the Internet world.

http://thecelebritycafe.com/cd/full_review/12056.html





Psychedelic soul duo Gnarls Barkley keeps it true and real, in costume

It's a suitable punch line for hip-hop gospel band Gnarls Barkley: the implausible pairing of DJ and producer Danger Mouse (Brian Burton) and Green (real name Thomas Calloway). While the two presents in a variety of costumes (they also prefer being photographed in "character"), their hit debut album, "St. Elsewhere", smells of unadulterated stripped-back soul. Gnarls Barkley's combo of psychedelic rumblings, grave lyrics and poppy huff has paved its spring-to-summer success.

In April, the troupe's bass-heavy single, "Crazy," reached to the peak at the British singles chart as the first track to attain No. 1 based on computer download sales alone.

http://www.rctimes.com/apps/pbcs.dll/article?AID=/20060613/ENTERTAINMENT01/606130305/1005/MTCN0303

MTV 2006 movie awards -Gnarls Barkley

You are likely to burn your fingers if you touch Gnarls Barkley,' because there so hot right now! So the fact that they're coming to town and we've got tickets to give away is good news indeed...

Fresh from their amazing performance at the MTV Movie Awards (click on the link to watch it in Overdrive, http://www.youtube.com/watch?v=5VCWJVvE0Fk) , the GB are playing at London's Hammersmith Apollo on July 5 for a one-off, MTV-presented gig. It's going to be crazy.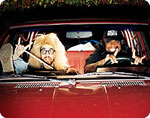 Gnarls Barkley finally ousted from number one

Gnarls Barkley has lastly been ousted from the top of the pop charts after nine weeks at number one with Internet phenomenon Sandi Thom taking over, the official UK charts company said on Sunday. Warner Music said last week it would not ship any new CD versions of Barkley's infectious song "Crazy" so it could focus on "Smiley Faces", the next single by the act, made up of U.S. hip-hop artist Cee-Lo Green and producer DJ Danger Mouse.

http://news.scotsman.com/latest_entertainment.cfm?id=825952006